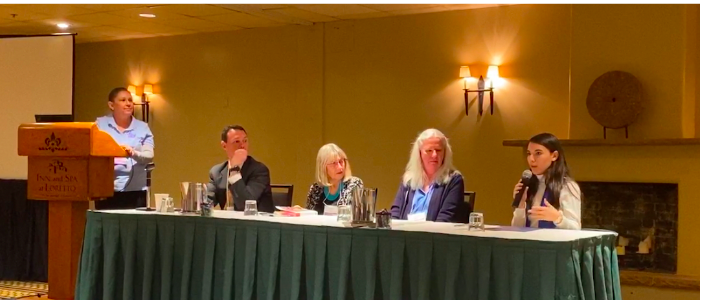 No Minor Sale and Speaking to Legislators as Youth Tobacco Prevention Advocates
Howdy there, my name is Aracely Flores-Ramirez and I'm a junior at Valencia High School in Los Lunas. This is my very first year with the Evolvement program here in New Mexico. Even before I learned about this amazing program and the tobacco prevention campaigns it works on, including No Minor Sale, keeping my generation from becoming addicted to tobacco has always been a priority to me. I've gone to talk to our state senators and representatives about tobacco-related policies multiple times since I was in the eighth grade.
This year, on February 10th, I had the pleasure of attending the New Mexico State Capitol in Santa Fe to learn about Tobacco Retail Licensing with the No Minor Sale Campaign. In fact, there was a bill, which I am extremely happy to say, that includes statewide Tobacco Retail Licensing that passed in the state of New Mexico. The Tobacco Products Act, which was signed by the New Mexico Governor on March 4th, 2020, goes into law January 1st, 2021. This policy ensures that more retail stores are held accountable for illegal tobacco product sales to minors. This will have an astronomical effect on the availability of tobacco to youth today. Most teenagers only start using tobacco products (such as e-cigarettes) because they tried it with a friend, and they could keep getting their hands on it after their first taste. It is hard to change the issue of negative peer pressure, but it is easier to stop it at the inciting incident. Tobacco Retail Licensing was a vital step in stopping the cycle.
It is through our voices, as youth advocates, that we can stop more stories like this moving forward. Policy makers have no idea what problems our generation is facing unless we speak up. Legislators, and adults in general, are not superhuman. They don't know what issues we face and much less how to connect with us to solve it. It is our job to persuade them, as youth advocates, that it is worth the effort. You have to be confident, passionate, educated and know what you're talking about. If legislators knew how a tobacco prevention policy would affect them and their own lives, they would be more likely to support it. Most legislators have children or know of other teenagers who are affected by these same issues and can relate to what you're trying to say. If we work in collaboration with members of the state legislature, the impact will be much greater. Nobody knows us like we know ourselves which is why we have to take responsibility for our fellow students. Evolvement students, such as myself, have used this attitude in their work with the No Minor Sale Campaign and advocating for Tobacco Retail Licensing, which was ultimately passed, in part, due to our hard work.
Think of it like this. The more work we do now, the less work we'll have to do later. Instead of spending money on tobacco cessation programs in the future, I feel it's more beneficial to focus on prevention work so fellow students will not need these programs in the future. It's easy to live in the moment and forget about the future. Always remember the end goal in these times! Change happens slowly. You may not see the effects of your advocacy for years, and that's ok. In the end, you likely helped at least one person. You did your part to create a healthier community.
There is no time like the present to act. Everyone has the power to help someone else. Email your representatives, ask them out to coffee and reach out to your community to talk about No Minor Sale and tobacco prevention here in New Mexico. So, go out and do your part!